Paper Corresponding to David Cay Johnston's Free Lunch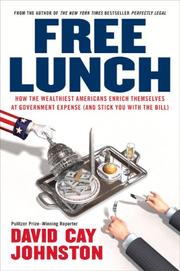 Guidelines
1) In light of the massive federal budget deficit and the California state budget shortfall, spending cuts and tax increases will be the order of the day for most taxpayers in California. In his book Free Lunch David Cay Johnston argues that subsidies for businesses and, in general, the wealthy result in economic inefficiency and economic pollution. This, in turn, causes more economic hardhip for middle class Americans who have to take on more of the tax burden and will have fewer opportunites as a result of the increased tax burden and decreased government spending.
2) Using David Cay Johnston's Free Lunch and any other resources at your disposal, build your case for how subsidies work and judge whether these miscarriages of economic justice are the result of greedy individuals who recognize how to tilt government expenditures to their advantage or are the result of a lethargic and easily duped government bureacracy and its sloppy policy-making.
a) you may choose to use examples that illustrate inequities in the tax system. Some examples from Johnston's book include:

i) subsidies for recreational land use development

ii) subsidies for punitive damages as a result of railroad negligence

iii) subsidies for companies to move operations overseas so that they can offset the cost of their taxes with the foreign tax credit

iv) the sale of public space (like parks) and subsidies for sports teams

v) subsidies for shipbuilders

vi) subsidies for manufacturing plants through eminent domain

vi) subsidies for retail establishments

vii) appropriation earmarks derived by lobbyists

viii) subsidies in the proliferation of alarm systems

ix) subsidies in title insurance

x) homeowner tax breaks in the form of interest deduction

xi) subsidies in electricity deregulation

xii) executive retirement tax benefits

xii) subsidies for changing non-profit health organizations into for-profit health maintenance organizations

xiii) subsidies for pharmaceutical companies through the Medicare prescription drug plan

xiv) subsidies in deregulated hedge funds

xv) subsidies in backdating stock options for executives
3) In the conclusion try to come to terms with the assertion made by many business owners whom Johnston interviewed for Free Lunch that
if the rules allow them to take subsidies then there is nothing wrong with doing so.
OR
discuss whether you think David Cay Johnston's moral appeal in Free Lunch is outdated and will not have any real appeal for Americans who are much more pragmatic
4) 1200 words
---
---
---
website for David Cay Johnston's Free Lunch
Read portions of the book at Google Books
"Countdown with Keith Olbermann" for Wed. Sept. 22, 2010 on S-Corps
The United States of ALEC: Bill Moyers on the Secretive Corporate-Legislative Body Writing Our Laws
Amtrak Pays Millions for Others' Fatal Errors by Walt Bogdanich in The New York Times [Oct. 15, 2004]
Commuter Rail Bill criticized as CSX "Sweetheart Deal" from The Florida Times-Union [Dec. 9, 2009]
Public Citizen Charges That Amtrak Used Taxpayer Dollars to Reimburse CSX Negligence, Not Rail Passenger Services from PR Newswire
Corporate taxes
Wikipedia page on corporate taxes ||| [Corporate Tax in the United States]
A Brief Guide to US Corporate Tax Reform by Walter Frick in the Harvard Business Review
Are US Corporate Tax Rates too high? on 60 Minutes
It's a Myth That Corporate Tax Rates Mean More Jobs by Sarah Anderson in The New York Times